NEESConnect
What is NEESConnect?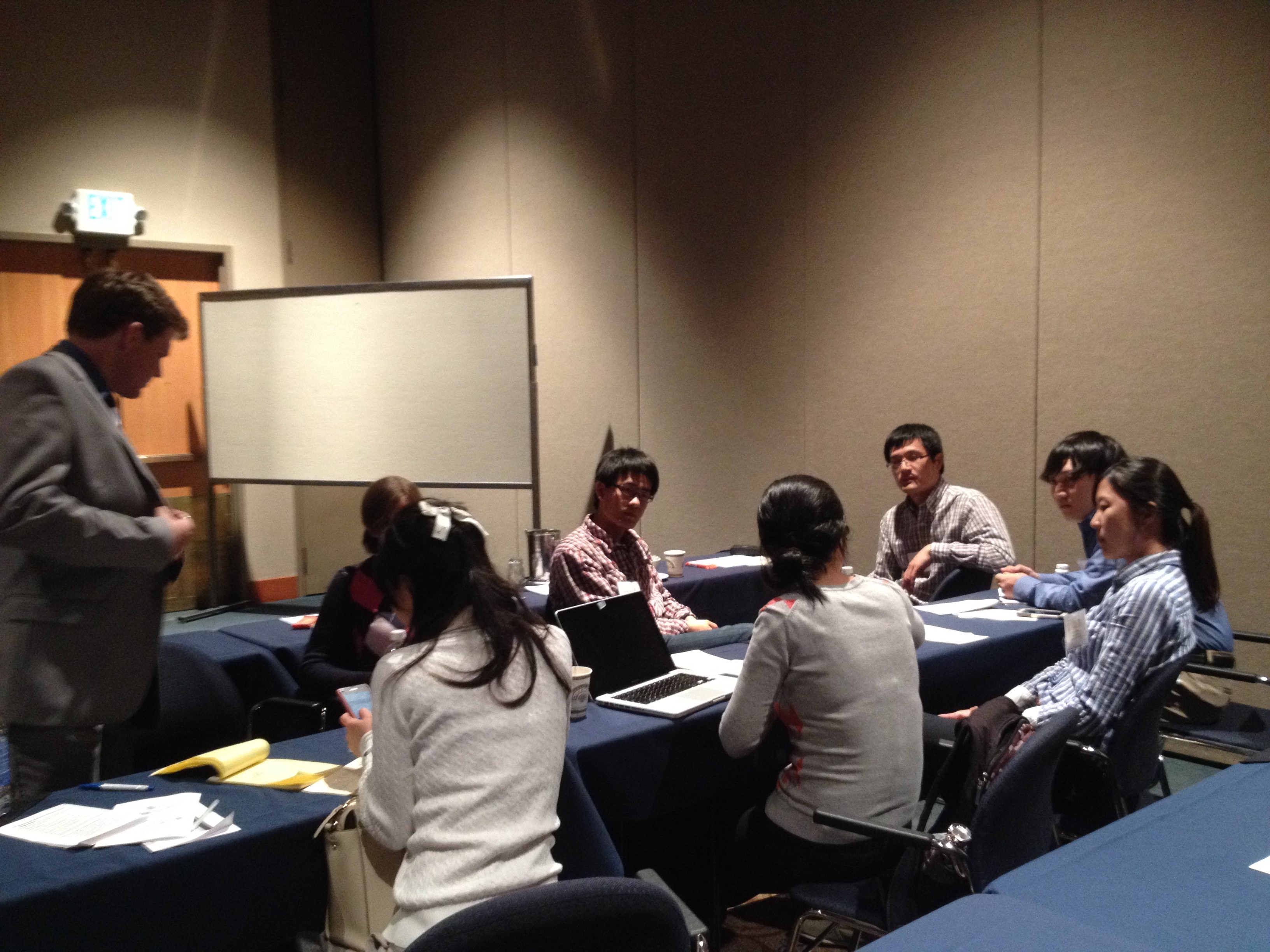 NEESConnect is a community network consisting of young scientists in NEES who share common interests and expertise in both basic and applied research in precision multicomponent nanostructures, dense architectures and designs, battery electrochemistry, and the new science where all these intercept.
Goals
The far-reaching goal is to provide a sustainable conduit of future energy research work force in all aspects of today's complicated energy landscape – the policy makers, the scientists in basic research, the designers, the technicians, the inventors, entrepreneurs, the manufacturers.
The more immediate goal is to establish an informal discussion forum to encourage collaborations within the multi-institutional organization for science exchange, career development and networking, and a global understanding of today's energy landscape.
Scope
NEESConnect alumni teleconferences
Career development workshops
Monthly or bi-monthly student speaker events lead by Thrust student organizers
Linkedin Professional Group "EFRC NEESConnect for members and alumni" NEESConnect LinkedIn Group
Alumni Events
December 2014, Questions & Answers session on career path in Industry
Kostas Gerasopolous, Tower Jazz
Xinyi Chen, LAM Research
Wenbo Yan, Applied Materials
February 2015, Questions & Answers session on career path in the Government
Ashley Predith, Assistant Executive Director, President's Council of Advisors on Science & Technology (PCAST)
Erin Cleveland, Science Researcher, Naval Research Laboratory
Stefanie Sherrill, Patent Examiner, United States Patent and Trademark Office (USPTO)
March 2015, Questions & Answers session on career path in Academia
Hitomi Mukaibo, Assistant Professor, Department of Chemical Engineering, Rochester University
Ann Bentley, Associate Professor of Chemistry, Lewis & Clark College
Yang Liu, Assistant Professor, TEM Lab Manger/Research, Analytical Instrumentation Facility (AIF), North Carolina State University
November 2015, Special Topic Guest Speaker
Stephen J. Harris, Materials Science Division at Lawrence Berkeley Lab, and NEES External Advisory Board member
February 2016, Introduction to National Laboratories
Khim Karki, Joint Postdoc Fellow at SUNY and Brookhaven NL, and TEM characterization in EFRC NECCES
Farid El Gabaly, new NEES PI, Sandia National Laboratories - CA
Cross-thrust Events
Ionics Transport Speaker Series
Student organizer Xin Silvia Li, Mark Reed group, Physics, Yale
Jul 2015, Henry White, Chemistry, Utah
Aug 2015, Eleanor Gillette, SB Lee group, Chemistry, UMD
Sep 2015, Tim Plett, Zuzanna Siwy Group, Physics & Astronomy, UCI
Oct 2015, James Wu, Charles Marting Group, Chemistry, Florida
Student Events
T1 Transport in Electrochemical Interphases
Student Thrust Leader: Luning Wang (UMD)
Thrust Leader: Phil Collins (UCI)
Student Speakers
June 2017, Kevin Leung, PI, Sandia
June 2017, Mina Abad, Phil Collins group, Physics & Astronomy, UCI
May 2017, Tim Plett, Zuzanna Siwy group, Physics & Astronomy, UCI
May 2017, Peng Wang, YuHuang Wang group, Chem & Biochem, UMD
April 2017, Luning Wang, Bryan Eichhorn group, Chemistry, UMD
Mar 2017, Luning Wang, Bryan Eichhorn group, Chemistry, UMD
Mar 2017, Juliette Experton, Charles Martin group, Chemistry, UFL
Feb 2017, Weihuang Xu, Charles Martin group, Chemistry, UFL
Feb 2017, Mina Abad, Phil Collins group, Physics & Astronomy, UCI
Jan 2017, Tim Plett, Zuzanna Siwy group, Physics & Astronomy, UCI
Dec 2016, Juliette Experton, Charles Martin group, Chemistry, UFL
Nov 2016, Angelique Jarry, Bryan Eichhorn group, Chem & Biochem, UMD; LBL
Oct 2016, Tim Plett, Zuzanna Siwy group, Physics & Astronomy, UCI
Sept 2016, Yi Yu, Bryan Eichhorn Group, Chem & Biochem, UMD; LBL
Sept 2016, Juliette Experton, Charles Martin Group, Chemistry, UFL
July 2016, Tim Plett, Zuzanna Siwy, Physics & Astronomy, UCI
July 2016, Luning Wang, Bryan Eichhorn, Chem & Biochem, UMD
June 2016, Angelique Jarry, Bryan Eichhorn Group, Chem & Biochem, UMD; LBL
June 2016, Juliette Experton, Charles Martin Group, Chemistry, UFL
May 2016, James Wu, Charles Martin Group, Chemistry, UFL
May 2016, Jill Pestana, Phil Collins Group, Physics & Astronomy, UCI
April 2016, Yi Yu, Bryan Eichhorn Group, Chem & Biochem, UMD; LBL
April 2016, Tim Plett, Zuzanna Siwy, Physics & Astronomy, UCI
Feb 2016, Emily Sahadeo, Sang Bok Lee Group, Chem & Biochem, UMD
Dec 2015, Yang Wang, Sang Bok Lee Group, Chem & Biochem, UMD
Nov 2015, Tetyana Ignatova, Phil Collins Group, Physics & Astronomy, UCI
Oct 2015, Luning Wang, Brian Eichhorn Group, Chem & Biochem, UMD
Aug 2015, Jeremy Ticey, Cumings Group, Materials Science, UMD
Jul 2015, Nam Kim, SB Lee group, Chemistry, UMD
Jun 2015, Jill Pestana, Phil Collins Group, Physics & Astronomy, UCI
Apr 2015, Jaehee Song, Sang Bok Lee Group, Chemistry & Biochem, UMD
T2 Mesoscale Architectures
Student Thrust Leader: Emily Sahadeo (UMD)
Thrust Leader: Sang Bok Lee (UMD)
Student Speakers
June 2017, Emily Sahadeo, SB Lee group, Chem & Biochem, UMD
May 2017, Yang Wang, SB Lee group, Chem & Biochem, UMD
May 2017, Sylvia Xin Li, Mark Reed group, Physics, Yale
April 2017, Hakeem Henry, SB Lee group, Chem & Biochem, UMD
April 2017, Wei Luo, Liangbing Hu group, Materials Science Engineering, UMD
Mar 2017, Tao Gao, C CS Wang group, Chemical & Biomolecular Eng, UMD
Mar 2017, Peng Wang, YuHuang Wang group, Chem & Biochem, UMD
Feb 2017, Fudong Han, CS Wang group, Chemical & Biomolecular Eng, UMD
Feb 2017, Nam Kim, SB Lee group, Chem & Biochem, UMD
Dec 2016, Hakem Henry, SB Lee group, Chem & Biochem, UMD
Nov 2016, Emily Sahadeo, SB Lee group, Chem & Biochem, UMD
Oct 2016, Comparative Architecture Focus Group
Sept 2016, Nam Kim, SB Lee Group, Chem & Biochem, UMD
Sept 2016, Xin Sylvia Li, Mark Reed Group, Physics, Yale
Aug 2016, Yang Wang, SB Lee Group, Chem & Biochem, UMD
July 2016, Tao Gao, CS Wang, Chemical & Biomolecular Eng, UMD
June 2016, Emily Sahadeo, SB Lee, Chem & Biochem, UMD
May 2016, Yang Wang, SB Lee Group, Chem & Biochem, UMD
May 2016, Hakeem Henry & Jaehee Song, SB Lee Group, Chem & Biochem, UMD
Apr 2016, Xin Sylvia Li, Mark Reed Group, Physics, Yale
Apr 2016, Chuanfu Sun, YH Wang Group, Chem & Biochem, UMD
Apr 2016, Nam Kim, SB Lee Group, Chem & Biochem, UMD
Oct 2015, Wei Luo, Liangbing Hu Group, Mater Science & Eng, UMD
Sep 2015, Tao Gao, Chunsheng Wang Group, Mater Science & Eng, UMD
Jun 2015, Peng Wang, YuHuang Wang Group, Chemistry & Biochem, UMD
Apr 2015, Chanyuan Liu, Gary Rubloff Group, Materials Science & Eng, UMD
Feb 2015, Tao Gao, Chunsheng Wang Group, Mat. Science & Eng, UMD
Feb 2015, Eleanor Gillette, Sang Bok Lee Group, Chem & Biochem, UMD
T3 Science of Dynamic Nanostructure Degradation
Student Thrust Leader: Gaurav Jha (UCI)
Thrust Leader: Reginald Penner (UCI)
Student Speakers
June 2017, Subrahmanyam Goriparti, Katie Jungjohann group, Sandia
May 2017, Hong Kang Tian, Yue Qi group, Chem E & Materials Science, MSU
April 2017, Yuxiao Lin, Yue Qi group, Chem E & Materials Science, MSU
Mar 2017, Zoey Warecki, John Cumings group, Materials Science Engineering, UMD
Mar 2017, Jonathan Larson, Janice Reutt-Robey group, Chem & Biochem, UMD
Feb 2017, Gaurav Jha, Reginal Penner group, Chemistry, UCI
Feb 2017, Kwang Jim Kim, Yue Qi group, Chem E & Materials Science, MSU
Jan 2017, Thrust 3 orientation
Dec 2016, Hong Kang Tian, Yue Qi group, Chem E & Materials Science, MSU
Nov 2016, Zoe Warecki, John Cumings group, Materials Science Engineering, UMD
Aug 2016, Yuxiao Lin, Yue Qi Group, Chem E. & Materials Science, MSU
July 2016, Mya Le, Reginald Penner Group, Chemistry, UCI
July 2016, Tim Plett, Zuzanna Siwy, Physics & Astronomy, UCI
June 2016, Jonathan Larson, Janice Reutt-Robey Group, Chem & Biochem, UMD
April 2016, Kwang Jin Kim, Yu Qi Group, Chem Eng & Materials Science, MSU
Dec 2015, Sangwook Chu, Reza Ghodssi Group, ECE, UMD
Nov 2015, Wentao Song, Janice Reutt-Robey Group, Chem & Biochem, UMD
Oct 2015, Yuxiao Lin, Yue Qi Group, Chem E & Materials Science, MSU
Sep 2015, Mya Le Thai, Reg Penner Group, Chemistry, UCI
Aug 2015, Hyung Jung, Reza Ghodssi Group, ECE, UMD
Jul 2015, Jonathan Larson, Janice Reutt-Robey Group, Chem & Biochem, UMD
Jun 2015, Kwang Jin Kim, Yue Qi Group, Chem E & Materials Science, MSU
Apr 2015, Girija Thesma Chandran, Reginald Penner Group, Chemistry, UCI
Mar 2015, Kostas Gerasopoulos, Reza Ghodssi Group, ECE. UMD
T4 Solid State Energy Storage
Student Thrust Leader: David Ashby (UCLA)
Thrust Leader: Alec Talin (Sandia)
Student Speakers
April 2017, Alex Pearse, Gary Rubloff group, Materials Science Engineering, UMD
March 2017, Kevin Leung, PI, Sandia
March 2017, Kim McKelvey, Henry White group, Chemistry, Utah
Aug 2016, David Ashby, Bruce Dunn Group, MSE, UCLA
July 2016, Alex Pearse, Gary Rubloff Group, MSE, UMD
July 2016, Kim McKelvey, Henry White Group, Chemistry, Utah
June 2016, Alex Pearse, Gary Rubloff Group, MSE, UMD
March 2016, Kevin Leung (PI presentation), Sandia
March 2016, Alex Pearse, Gary Rubloff Group, MSE, UMD
Feb 2016, Kevin Leung, Sandia NL-NM
Feb 2016, David Ashby, Bruce Dunn Group, UCLA
Feb 2016, Kim McKelvey, Henry White Group, Chemistry, Utah
Jun 2015, Andrew Leenheer, Sandia-NM, Alec Talin group, Sandia-CA
May 2015, Alex Kozen, Gary Rubloff group, MSE, UMD, Alec Talin, Sandia - CA
Mar 2015, Martin Edwards, Henry White Group, Chemistry, Utah
Feb 2015, Farid El Gabaly Martinez, Alec Talin Group, SNL-CA
Feb 2015, Alex Kozen, Gary Rubloff Group, MSE, UMD